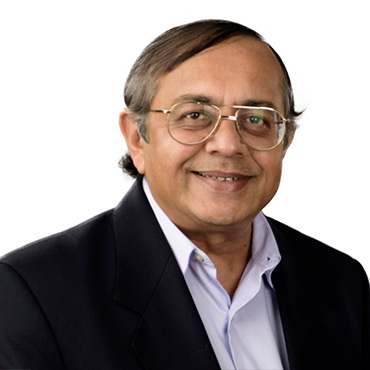 Dr Himanshu Brahmbhatt
Co-Founder and Joint-CEO
Co-founded EnGeneIC Pty Ltd in 2001 and built it from the concept stage to a company based in Australia and USA, a small scale manufacturing plant in Sydney and now a clinical stage biopharmaceutical company. He co-invented the first-in-class, EDV (EnGeneIC Dream Vector) cyto-immunotherapeutic technology for the effective treatment for several different cancers. Safety and dramatic anti-tumor efficacy has been demonstrated in one each of end-stage mesothelioma, glioblastoma and pancreatic cancer patients. The company is now in Phase IIa clinical trials in several cancers. The technology is globally unique and he is the co-inventor on over 419 granted patents world-wide with 74 additional patent applications pending.
The two co-founders have raised over $80 million to fund EnGeneIC's development and operations.
He has a strong background in R & D innovation and the biopharmaceuticals business having successfully developed sophisticated investor base, company operations in Australia and USA, corporate governance, building business relationships with senior business development executives in Big Pharma companies in USA, Europe and Japan and building business relationships with major investment banks in USA. He is the principal author on several scientific and clinical research papers including high impact publications in Cancer Cell, Nature Biotechnology and Lancet Oncology. He has been awarded a number of national and international research grants. In 2007, ABC TV (Australian national TV channel) produced an "Australian Story", For the Holy Grail, on the motivation and efforts for H & J to build EnGeneIC and develop the EDV technology. It has become an Australian Story Classic and has been purchased by Foxtel for screening worldwide. The YouTube version can be viewed on EnGeneIC website
In 2009, BBC and independent documentary film maker, Rymer Childs commenced filming the EnGeneIC journey from research to the clinic to commercialization. This filming is on-going. He graduated with an M.Sc. from the MS University (Baroda, India) and Ph.D from University of Adelaide (Australia). He did his post-doctoral research at the Geneva Medical Centre (Switzerland) and The National Centre for Research in Biotechnology (Germany). Prior to founding EnGeneIC, he was the Principal Scientist at CSIRO.